Another round of updates..
With roughly around 1 month till the due date, my
Panavia Tornado GR MK1
"Gulf Killer" is progressing at a nice and steady pace.
Now i'm getting ready the plane for a
"priming"
stage by covering the aircraft with a layer of Mr Surfacer 1000.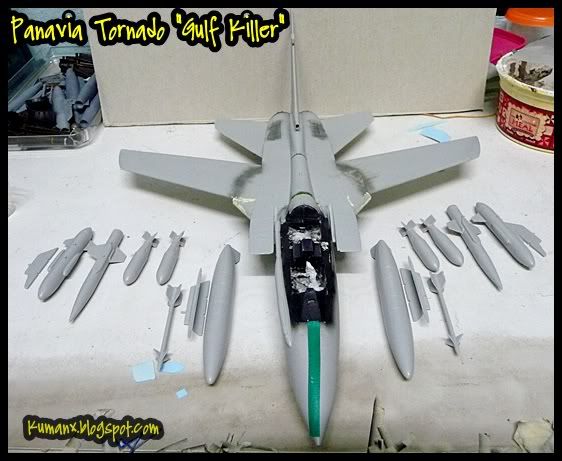 Currently this model is a bit boring to look at since all we see is only the plain, grey color of the plastic.
This will start to changes once its been primed.
This stage (priming) serves 2 important purposes:
1. Checking for flaws in the join and also if any gaps needed to be covered plus this also will make all the scratches visible. Thus would help in repairing the flaws.
2. Set as a layer of surface for the final paint to "bite" into, so there will not be any nasty surprise at the final painting stage (such as paint peeling after masking etc). Also will help make the subsequent color "stick" more effectively.
Another top view of the aircraft with all its pods and pylons.
Hopefully in the next few days, i'll be able to prime this bird and move on to the next stage..
Stay tuned for more updates
BTW:
Excuse the terms and all the modeling jargon i used throughout the blog.
I'll try to explain them as i go. I'm also still learning, so excuse some of the mistakes i make... :o)